What if you had the ability to spend just $50 and increase your website visitors by thousands today? Facebook is the number one social advertising tool, and with the ability to reach over 3 billion customers, advertising on this social platform may be the best way for small businesses to reach greater audiences.
Facebook advertising allows you to target audiences in a variety of ways. You can select your target audience by location, interests, shopping behaviours, FICO scores, and so many other data points. In addition, you can place your ad directly in front of those who are most likely to convert into a customer.
To get started with Facebook advertising, businesses must first set up a Facebook Business Manager account and have a Facebook page for their business. While you do not need to have an Instagram account to advertise on that platform as well, you may want to create one to increase your brand's reach.
This guide gives you a complete walk-through of how to set up your Facebook account and first advertising campaign.
Table of Contents
Why Use Facebook Ads? (It Drives Sales!)
How to Set Up Your Facebook Business Manager
Where to Install the Facebook Pixel (WordPress Guide Included)
How to Target Facebook Audiences
Creating Your First Facebook Ads Campaign
Customizing Your Ad Set
What Creatives Work Best for Facebook Ads
Why Use Facebook Ads?
If you own a business, you know there are tons of ways to market what you do and your products. However, budgeting for your marketing team may not be as straightforward when you opt for online advertising. Facebook is the best option for small business owners because it allows you to reach millions of customers who are actively looking for brands to engage with online.
There are three reasons why Facebook is one of the best platform for advertising your business:
1. It's Easy to Reach Thousands of People or More Per Day
Do you have any business coming to your store or website today? You can drive traffic immediately with a Facebook campaign. The user base for this social platform is incredibly active. Social media is so addictive that we use it every hour of the day. Users are spending more time on social media than ever before, and they are buying directly from clicking on ads that pop up in the timeline, sidebar, Facebook Messenger, or Instagram feed.
Basically, you are missing out on an incredibly easy opportunity if you have not considered Facebook advertising before.
2. Target Your Exact Customer with Demographics, Behaviors, Interests, Location, and More
Did you know that Facebook stated they have over 35 million data sets that you can target on their platform? You can target audiences by almost anything just with a couple clicks inside of Facebook Business Manager.
Every like, connection, interest, behaviour, website visit, location, and other tidbits of information is tracked by Facebook. You can set up hundreds of different audiences by building these data points, or you can upload your customer email list or phone list to create remarketing lists based on your own data.
The best part is that you can also target competitor's audiences by matching your audience's interests to your products and services. This increases the chance that you will tap into all new audiences who have never seen your brand before, but they will be likely to engage with your ad based on targeting.
3. Get More Likes, Clicks, Purchases, and Overall Brand Awareness Today
The entry to Facebook advertising is very easy. You simply need to set up a Facebook page and business manager account to get started. In addition, you do not need to hire an agency or consultant to do this for you.
Once you set up your ads account, you can create a campaign and immediately activate it to start sending your ads directly to your audience. After your ads are published, you will likely see more activity than just new website visits. You can increase your likes, followers, online purchases, leads, and other engagement factors in a matter of hours.
It's that simple.
So what are we waiting for? Let's get this show on the road!
Step 1: How to Set Up Your Facebook Business Manager
First off, this process seems more complicated than it actually is. If you have tried to start up a Facebook business account before and gotten lost, you are not alone. However, once you get past this initial setup, you can instantly access the campaign setup tool and start dominating the market.
The first step is to create a Facebook Business Manager account. This is the area of Facebook where all advertisers build advertising campaigns, Facebook business pages, and other resources necessary to advertise on the platform.
Note: You will need to first create a Facebook page before you can set up your Facebook ads campaign.
To get started, visit business.facebook.com and click on "Create Account."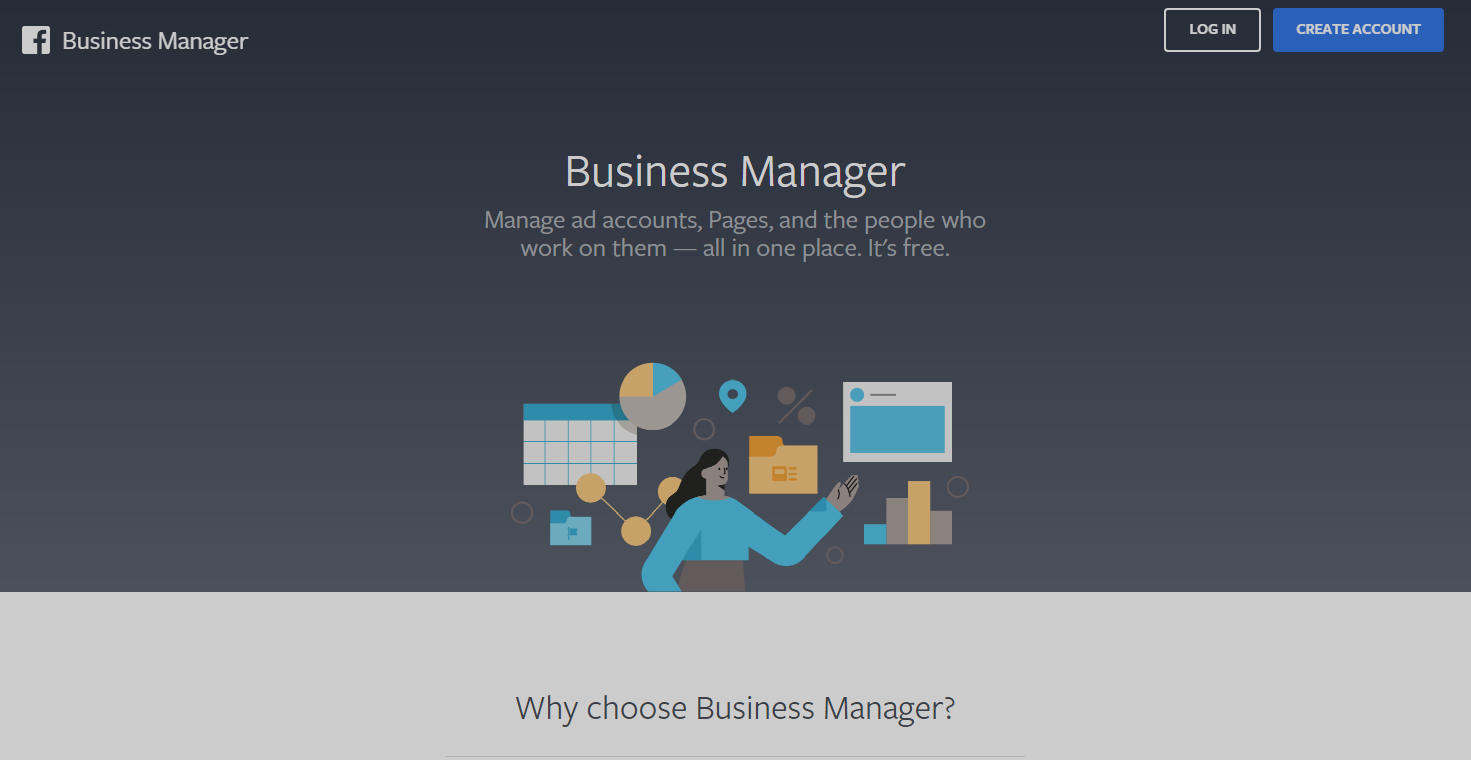 During this setup phase, you will provide your business name, Facebook business page, your name, and email address.
On the next screen, you will set up a new advertiser account. To do this, follow these steps:
Go to "Business Settings" at the top of the Business Manager menu. Click "Accounts," then click "Ad Accounts." You will be given three options, select "Create a New Ad Account."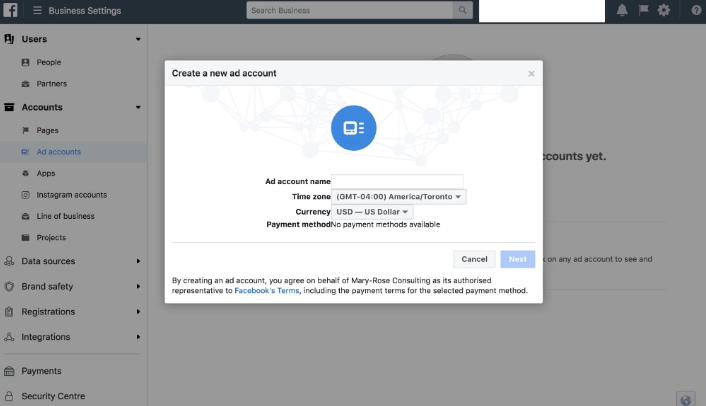 After going through this step, you should now have a Facebook Business Manager account with a connected Facebook page and ad account. When you log into your business manager, you should see this screen: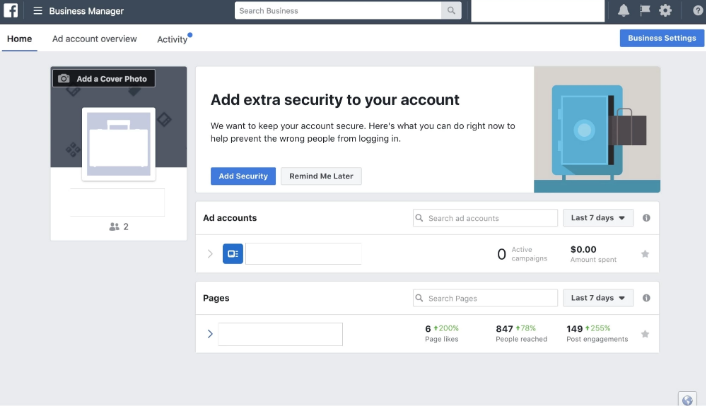 You can set up multiple ad accounts for different pages on this screen as well. Let's continue working with your new ad account to create your first campaign.
Step 2: Where to Install the Facebook Pixel (WordPress Guide Included)
One of the first things you must do is install the Facebook pixel. This is a necessary part of tracking your Facebook ad's success and monitoring your conversions. Otherwise, businesses are not able to see if their ads are actually working.
The Facebook pixel tracks all clicks and traffic related to your ad. You can see what ads are driving sales and getting conversions just by installing this pixel code on your website.
There is an in-depth guide to installing the Facebook pixel. You simply need to copy and paste the pixel into the "head" of your website.
If you use WordPress, the installation is fairly easy. Here is our quick guide:
Access your Facebook pixel by logging into your business manager and going to facebook.com/ads/manager/pixel/facebook_pixel. It's also located within the Business Manager menu under "Event Manager." Click on "Pixels." Click "Create Pixel" to add a Facebook pixel to your account.

Once created, click "Manually install the code yourself" to see the Facebook pixel code. Click on the code to copy it completely. Keep this tracking code handy as you'll need to paste it into your WordPress site's head code.

Go to your WordPress site and login. To install the code, you need access to your WordPress' code. The easiest way to do this is by using the Insert Headers and Footers plugin by WPBeginner. You can use download the plugin and then click on "Plugins" from your WordPress dashboard to install and activate your new plugin.

Once installing this plugin, go to "Settings" on the left sidebar and click "Insert Headers and Footers." Go back to your Facebook pixel code, copy it and paste into the "Scripts in Header" box. Click "Save" to finish.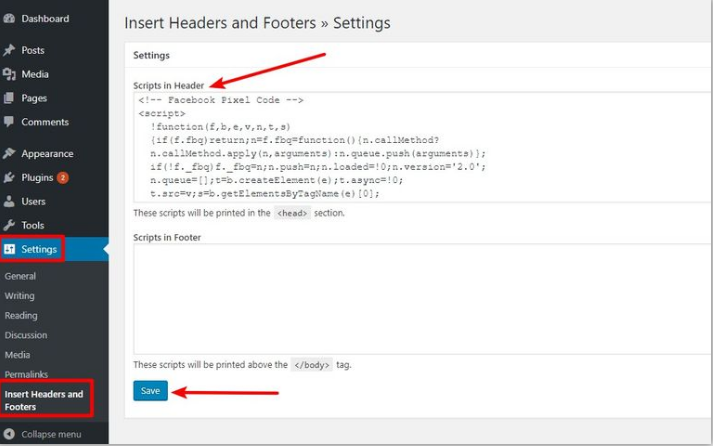 Now you have successfully installed the Facebook pixel into your WordPress. If you have Shopify, then you can check out their own guide to installing the pixel. There are also simple instructions on the Facebook pixel management page.
Step 3: How to Target Facebook Audiences
Creating Facebook audiences is fairly simple. You simply need to know what types of audiences you want to target with your campaigns. If you already have a demographic profile, you can use those data points to target your customers on Facebook. You can also use a customer email list or phone list by uploading it to Facebook audiences. There are several ways to build an audience. We'll show you the two most popular ways to do this.
Uploading a Customer Audience File
To get started, click on the menu icon in the top left corner of Ads Manager and click on "Advertise," then click "Audiences."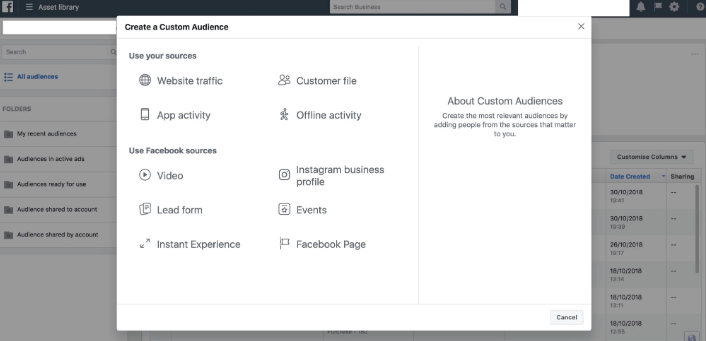 Click on "Customer File" to upload an email list.

Upload a CSV file with your customer's emails or phone numbers.

Name your audience and click "Save."
Building an Audience by Targeting Factors
The best way to reach new audiences is to use Facebook's targeting tool. The easiest way to get started with this is to login to your ad account and click "Create Ad" or build a new campaign. Facebook will walk you through ad set up. On the third screen, you will be given options for building your audience.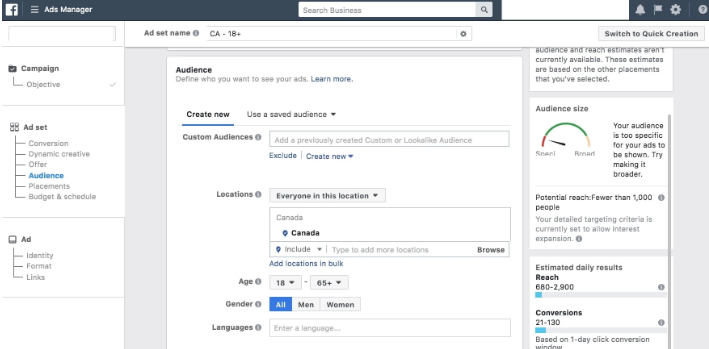 On this screen, you can select all kinds of targeting factors based on interests, demographics, and behaviors. You can search by competitor brand names, product keywords, employer titles, interests, and any other factor you think is appropriate to build your audience. You can see your reach grow with an expected cost on the right side of the screen as you add more targeting factors.
It's best to set up one audience at a time and target your ads directly to groups of customers. For example, you may have high-end products that will appeal to a certain age group. You can create a "35 to 45" age audience for one ad set and use messaging directly related to their interests to appeal to this audience.
You can set up another ad with a different audience for a "20 to 30" age group to target younger audiences. This is the most basic example as there are tons of ways to build audiences. The best way to do this is to experiment with the tool and see how your reach grows as you add more interests.
Step 4: Creating Your First Facebook Ads Campaign
Facebook ads require the following for set up:
Facebook objective: do you want conversions, clicks, traffic, or likes?

Text or marketing message for the post and headline

Ad creative such as images or video

Budget and schedule
To get started, log in to your ad account manager and click "Create Ad" or "Create Campaign." Both of these start with the same screen.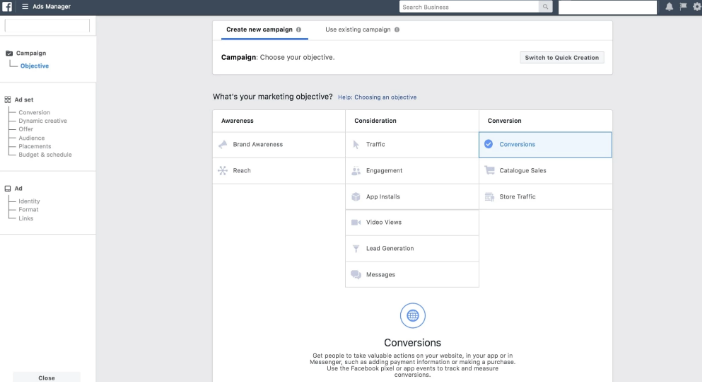 The first step starts with choosing an objective. There are three different categories including awareness, consideration, and conversions. We recommend going with traffic or conversions to get started if you have a website or product link that you want people to visit. You can visit Facebook's guide to choosing an objective to see how all of these options relate to your business goals.
We will assume you want to use advertising to increase sales, which means selecting "Conversions."
Step 5: Customizing Your Ad Set
Once you click "Conversions," Facebook begins your ad set up by asking you to name your ad set and takes you through a step-by-step setup process where you select your audience, budget, schedule, placements (Facebook desktop, mobile, and Instagram), and ad creatives.
You will be asked to provide information on what type of conversion you want. If you are looking for sales, then you may select "Add to Cart." This means that your campaign will be optimized for transactions on your website. You will provide the link for your ad when you set up the ad creative in the next step.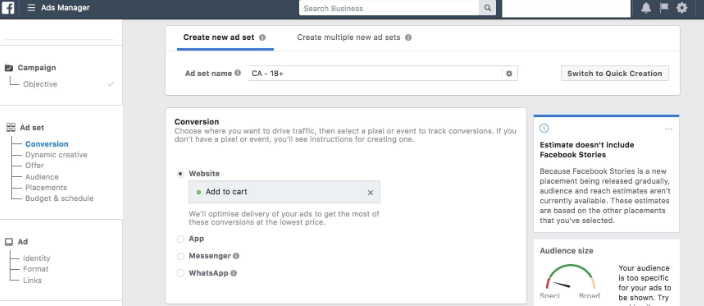 How to Budget for Your Ad
During your ad set creation, you will be given options for setting up a budget. If you know your customer acquisition cost or cost per conversion based on other advertising methods, you can apply the same budget logic to Facebook.
Facebook gives you two options. You can choose to have a daily maximum budget or a total campaign budget. Facebook optimizes ad spend so that it won't go over your maximum budget. To figure out your budget, you'll need to know how much you can spend per campaign.
In general, if you have a high cost item for sale, then you may need a higher budget to reach more audiences. Your cost per conversion may be higher. However, if it is just a sign up with no purchase required, you probably only need a small $25 to 50 per day budget.
Facebook will also suggest what budget is necessary to be successful as well. For your first campaign, you should set a maximum daily budget that won't drain your marketing but gives Facebook the best chances for success.
Step 6: What Creatives Work Best for Facebook Ads
The final piece of your ad setup is creative. You will need text and headlines for your Facebook ad, as well as images or video. Facebook gives you multiple options including a carousel, single image or video, or collection. For your first time, we suggest "Single Image or Video."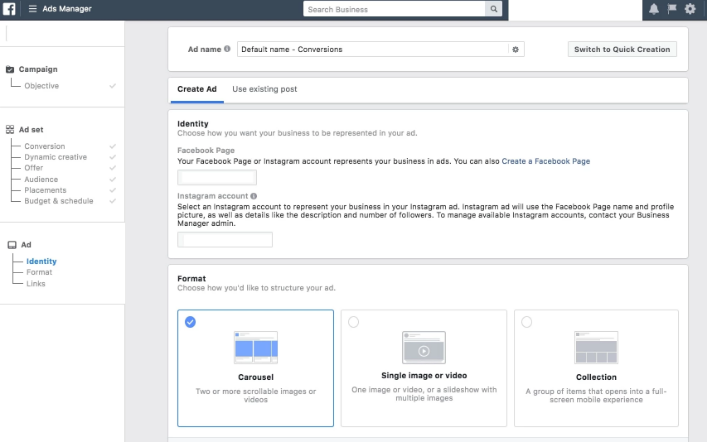 Once you click on Single Image or Video, an ad preview tool will pop up. You can upload your image or video directly. It will appear on the right side in the ad preview tool. On the left, you will add your sales text, website link, and call-to-action button.
When you are finished setting up create, click "Save and Publish" at the bottom to create your campaign.
Wrapping Up
This quick guide is only a little piece of what's next. After you set up your first campaign, you can head back to your ad account manager and check the status to see if it's been approved. Usually the ad approval process is nearly instant, but it may take a couple of hours depending on your creative and Facebook's response time. If you notice that your ad hasn't been approved after an hour, you may want to contact Facebook Help.
In addition, you can monitor your active campaigns right from your home screen. It's best to follow the cost per conversion, clicks, and ad spend to see if the campaign is performing well. If you notice that your ad is spending but not getting any clicks, you may want to pause and check the ad's comments to see if you are getting negative comments, which can deter people from clicking on your ad.
Otherwise, you should wait until your ad has at least 1,000 impressions before you make any changes. At this time, Facebook is learning about your audience and optimizing to get more conversions based on its insights.
Good luck with your new campaign!
Want Facebook Ads for your business but don't have the time to spend building them yourself? Talk to our team today!